makeup

make·up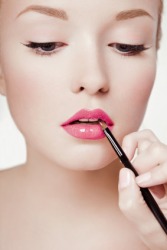 A woman applying makeup.
adjective
The definition of makeup is forgiving.

An example of makeup used as an adjective is in the sentence, "Give your friend a makeup handshake," which means to give your friend a handshake to show that the fight is over.
noun
Makeup is defined as how something is put together, or cosmetics.

An example of makeup is the structure of a person's genes.
An example of makeup is lipstick.
---
makeup
or make′-up·
the way in which something is put together; composition; construction
nature; disposition; constitution: to have a stolid makeup

the way in which an actor is made up for a role, as with a costume, wig, greasepaint, powder, etc.
the costumes, wigs, greasepaint, etc. so used

cosmetics generally; blush, lipstick, mascara, etc.
the way in which these are applied or worn

the arrangement of type, illustrations, etc. in a book, newspaper, page, etc.

Informal

a special test that a student takes to make up for a test missed or failed
---
makeup
or make-up
noun
The way in which something is composed or arranged; composition or construction.
Printing The arrangement or composition, as of type or illustrations, on a page or in a book.
The qualities or temperament that constitute a personality; disposition: Lying is not in her makeup.
Cosmetics applied especially to the face.
Materials, such as cosmetics and costumes, that an actor or actress uses in portraying a role.
A special examination for a student who has been absent from or has failed a previous examination.
---
makeup

Noun
(usually uncountable, plural makeups)
(uncountable) An item's composition.

To understand how a nuclear reactor works, we must first look at its makeup.

(uncountable) Cosmetics; colorants and other substances applied to the skin to improve its appearance.

She is wearing a lot of makeup.

(Industry) Replacement; material used to make up for the amount that has been used up.
Usage notes
The alternative spelling make-up is favored by the Oxford Dictionary, and thus is often considered to be British, while makeup, being preferred by Merriam Webster's dictionary, is the generally accepted American spelling.
---