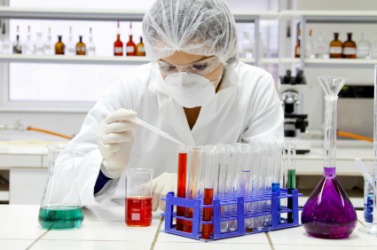 A chemist at work in her chemistry laboratory.
noun
The definition of chemistry is a branch of science that deals with the form and properties of matter and substances or the interaction between individuals.

An example of chemistry is the study of protons and neutrons.
An example of chemistry is the feeling of affection and attraction between a couple.
---
chemistry
noun
pl.
-·tries
the science dealing with the composition and properties of substances, and with the reactions by which substances are produced from or converted into other substances
the application of this to a specified subject or field of activity
the chemical properties, composition, reactions, and uses of a substance
any process of synthesis or analysis similar to that used in chemistry: the chemistry of wit

Informal

the makeup of a person, group, situation, etc.
interaction between people, esp. with respect to emotional or intellectual qualities; rapport
mutual sexual attraction
Origin of chemistry
chemist + -ry
---
chemistry
noun
pl.
chem·is·tries
The science of the composition, structure, properties, and reactions of matter, especially of atomic and molecular systems.
The composition, structure, properties, and reactions of a substance.
The elements of a complex entity and their dynamic interrelation: "Now that they had a leader, a restless chemistry possessed the group" ( John Updike )
Mutual attraction or sympathy; rapport: The chemistry was good between the partners.
---
chemistry

Noun
(countable and uncountable, plural chemistries)
(uncountable) The branch of natural science that deals with the composition and constitution of substances and the changes that they undergo as a consequence of alterations in the constitution of their molecules.
(countable) An application of chemical theory and method to a particular substance.

the chemistry of iron
the chemistry of indigo

(informal) The mutual attraction between two people; rapport.
Usage notes
Historical note: This word and its derivatives were formerly spelled chy- or sometimes chi- (i.e., chymistry, chymist, chymical, etc., or chimistry, chimist, chimical, etc.) with pronunciation depending on the spelling.
---