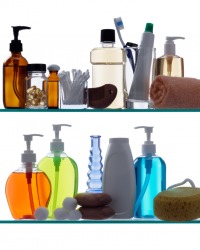 Toiletries on bathroom shelves.
noun
Toiletry is defined as personal care items use for hygiene or grooming.

Toothpaste, toothbrush or shampoo are all examples of a toiletry.
---
toiletry
noun
pl.
-·ries
soap, lotion, cologne, etc. used in cleaning and grooming oneself
---
toiletry
noun
pl.
toi·let·ries
An article, such as toothpaste or a hairbrush, used in personal grooming or dressing.
---
toiletry

Noun
(plural toiletries)
Any item used for personal hygiene or grooming.
---