noun
The definition of costume means a style of dress characteristic of a certain period or country or profession, or clothes worn for an event or a play or for a party with a theme.

An example of a costume is clothing from the colonial period.
An example of a costume is a vampire suit for Halloween.
verb
Costume is defined as to dress up or to provide with clothing.

An example of costume is to dress a child as Frankenstein for Halloween.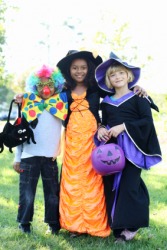 Children wearing Halloween costumes.
---
costume definition by Webster's New World
noun
the style of dress, including accessories, typical of a certain country, period, profession, etc.
a set of clothes in such a style, as worn in a play or at a masquerade

a set of outer clothes for some purpose or occasion, esp. one worn by a woman
Origin: 18th-c. art term ; from French ; from Italian ; from Classical Latin consuetudo, custom
Webster's New World College Dictionary Copyright © 2010 by Wiley Publishing, Inc., Cleveland, Ohio. Used by arrangement with John Wiley & Sons, Inc.
---
costume definition by American Heritage Dictionary
noun
A style of dress, including garments, accessories, and hairstyle, especially as characteristic of a particular country, period, or people.
An outfit or a disguise worn on Mardi Gras, Halloween, or similar occasions.
A set of clothes appropriate for a particular occasion or season.
transitive verb
cos·tumed
,
cos·tum·ing
,
cos·tumes
To put a costume on; dress.
To design or furnish costumes for.
Origin: French, from Italian, style, dress, from Latin cōnsuētūdō, custom; see custom.