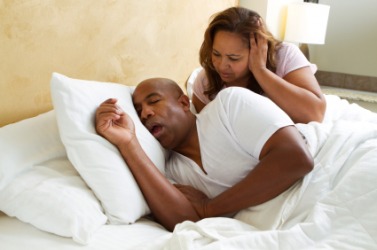 A woman finds her husbands snoring an irritation.
noun
The definition of an irritation is something that causes annoyance or discomfort, or a feeling of annoyance.

A constantly dripping faucet is an example of an irritation.
A rash on your skin from a product you are allergic to is an example of an irritation.
When you feel annoyed because of someone constantly asking stupid questions, this is an example of when you feel irritation.
---
irritation
the act or process of irritating
the fact or condition of being irritated
something that irritates

Med.

an excessive response to stimulation in an organ or body part; specif., a condition of soreness or inflammation
Origin of irritation
Classical Latin
irritatio
---
irritation
noun
a. The act of irritating: the prankster's irritation of the others in the dorm.

b. The condition of being irritated; vexation: honked the horn with irritation at the delay.

A source of irritation: Their constant talking is an irritation to people who are reading.
An inflammatory reaction of a bodily part.
Physiology The elicitation of a response to a stimulus in a plant or animal organ or tissue, especially in a nerve or muscle.
---
irritation

Noun
(plural irritations)
The act of irritating, or exciting, or the state of being irritated; excitement; stimulation, usually of an undue and uncomfortable kind; especially, excitement of anger or passion; provocation; annoyance; anger.
The act of exciting, or the condition of being excited to action, by stimulation; -- as, the condition of an organ of sense, when its nerve is affected by some external body; especially, the act of exciting muscle fibers to contraction, by artificial stimulation; as, the irritation of a motor nerve by electricity; also, the condition of a muscle and nerve, under such stimulation.
A condition of morbid excitability or oversensitiveness of an organ or part of the body; a state in which the application of ordinary stimuli produces pain or excessive or vitiated action.
Origin
From Middle French irritation, from Latin irritatio, from irritare ("to excite")
---