Ranger
[rān′jər]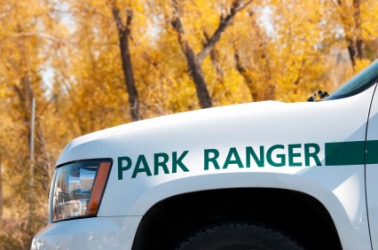 The truck of a park ranger.
---
Ranger
noun
one who ranges; a wanderer

any of a group of mounted troops for patrolling a region
☆ any of a group of soldiers, trained for raiding and close combat

in England, the chief official of a royal park or forest
☆ in the U.S., a warden who patrols government parks and forests
Origin of ranger
Middle English
raunger,
a forest officer: see range
---
Ranger
noun
A wanderer; a rover.
A member of an armed troop employed in patrolling a specific region.
Ranger A member of a group of US soldiers specially trained for making raids either on foot, in ground vehicles, or by airlift.

a. A warden employed to maintain and protect a natural area, such as a forest or park.

b. Chiefly British The keeper of a royal forest or park.
---
Ranger
Noun
(plural Rangers)
(baseball) A player that plays for the Texas Rangers.
(ice hockey) A players from the New York Rangers team.
---
Ranger
Variant of ranger
noun
one who ranges; a wanderer

any of a group of mounted troops for patrolling a region
☆ any of a group of soldiers, trained for raiding and close combat

in England, the chief official of a royal park or forest
☆ in the U.S., a warden who patrols government parks and forests
Origin of ranger
Middle English
raunger,
a forest officer: see range