pooch

pooch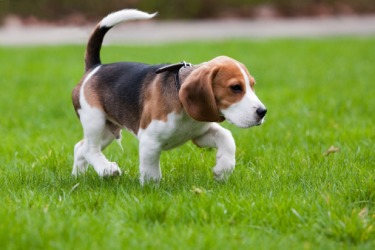 An adorable beagle pooch walking in the grass.
noun
Pooch is slang for a dog.

A little beagle dog is an example of a pooch.
verb
Pooch means to stick out, or cause to stick out.

When a sweater fits too tight and makes your stomach stick out more than normal, this is an example of when the sweater makes your stomach pooch.
---
pooch
Origin of pooch
from uncertain or unknown; perhaps
used only in the phrase
pooch out
, to (cause to) protrude, or bulge outward
---
pooch
noun
Slang
A dog.
Origin of pooch
Origin unknown
Informal
intransitive verb
pooched, pooch·ing, pooch·es
To bulge; protrude. Used with out : "a little roll of flab that pooches out above the tight waists of their spandex trunks" ( Megan Rosenfeld )
noun
A deposit of fat in the pelvic region.
Origin of pooch
Alteration of
pouch
---
pooch

Noun
(plural pooches)
(slang) A dog
A dog of mixed breed, a mongrel
A bulge, an enlarged part

"There's a pooch in the plastic where it got too hot."

A distended or swelled condition.

"Her left sleeve has more pooch at the shoulder than the right."
Verb
(third-person singular simple present pooches, present participle pooching, simple past and past participle pooched)
Origin
Of uncertain origin.
---