noun
Pandora, the first mortal woman according to Greek mythology, who opened a box containing all the bad things that could happen to humans and let them out.

An example of Pandora is the woman who released evil into the world.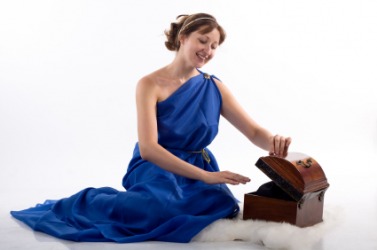 Is this Pandora opening the box?
---
pandora definition by Webster's New World
noun
Origin: Italian ; from Late Latin pandura: see bandore
noun
Gr. Myth.
the first mortal woman: out of curiosity she opens a box, letting out all human ills into the world (or, in a later version, letting all human blessings escape and be lost, leaving only hope)
Origin: Classical Latin ; from Classical Greek Pandōra ; from pan, all (see pan-) plush dōron, a gift: see date
Webster's New World College Dictionary Copyright © 2010 by Wiley Publishing, Inc., Cleveland, Ohio. Used by arrangement with John Wiley & Sons, Inc.
---
pandora definition by American Heritage Dictionary
noun
Greek Mythology The first woman, bestowed upon humankind as a punishment for Prometheus's theft of fire. Entrusted with a box containing all the ills that could plague people, she opened it out of curiosity and thereby released all the evils of human life.
A satellite of Saturn.
Origin: Greek Pandōrā, having all gifts : pan-, pan- + dōron, gift; see dō- in Indo-European roots.
The American Heritage® Dictionary of the English Language, 4th edition Copyright © 2010 by Houghton Mifflin Harcourt Publishing Company. Published by Houghton Mifflin Harcourt Publishing Company. All rights reserved.
---
pandora - Computer Definition
A leading music recommendation and Internet radio service from Pandora Media, Inc. (www.pandora.com). Pandora lets users create their own personalized radio stations by selecting a favorite artist and voting thumbs up or down on each song that is delivered. The more songs you hear and vote on, the more Pandora is able to fine tune the station to your preferences. Songs can be heard on the computer from the Pandora Web site or a smartphone. User selections made on the Web appear on the phone and vice versa. The Music Genome Project The heart of Pandora is the Music Genome Project that was started in 2000 by Will Glaser, Jon Kraft and Tim Westergren. It is a musicological study analyzing 400 attributes of a song, including melody, harmony, the singer's voice and instruments. Pandora uses its history of billions of thumbs up and down in combination with the music DNA to recommend songs. It should be noted that the "music DNA" has no relationship to the acoustic fingerprints used to identify a song (see acoustic fingerprint). See Last.fm, music recommendation service and music search.