nuisance

nui·sance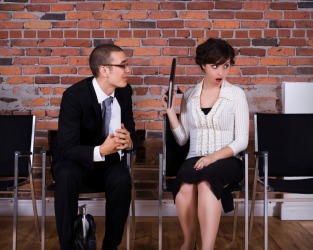 This man is being a nuisance.
noun
The definition of a nuisance is someone or something that is causing trouble, annoying or bothersome.

An example of a nuisance is your nosy neighbor.
---
nuisance
an act, condition, thing, or person causing trouble, annoyance, or inconvenience

Law

a use of one's property that causes danger or annoyance to others or that interferes with others using or enjoying their own property and that is subject to civil action
Origin of nuisance
Middle English
nusance
from Old French from
nuisir, noisir
from Classical Latin
nocere
, to annoy: see necro-
---
nuisance
noun
One that is inconvenient, annoying, or vexatious; a bother: Having to stand in line was a nuisance. The disruptive child was a nuisance to the class.
Law A use of property or course of conduct that interferes with the legal rights of others by causing damage, annoyance, or inconvenience.
Origin of nuisance
Middle English
from
Old French
from
nuire
nuis-
to harm
from
Vulgar Latin
nocere
from
Latin
nocēre
; see
nek-
1
in Indo-European roots.
---
nuisance

Origin
From Anglo-Norman nusaunce, nussance etc., from Old French nuisance, from nuisire ("to harm") (from Latin noceō ("I harm"))
---
nuisance - Legal Definition
n
An ongoing act or a condition that interferes with another's use or inhabitation of real property.
abatable nuisance
A nuisance that may easily be repaired or avoided.
attractive nuisance
A potentially dangerous element or entity on real property that may attract people, especially children, to use it to their own harm; for example, a swimming pool.
attractive nuisance doctrine
A nuisance that affects both public and private interests.
nuisance per se
A nuisance that is very dangerous, or in some other way beyond conventional bounds of acceptability and risk, one that has certainty.  
private nuisance
A nuisance that affects private ownership interests.
public nuisance
A nuisance that interferes with public interests, including those in health, safety, and transportation.
---