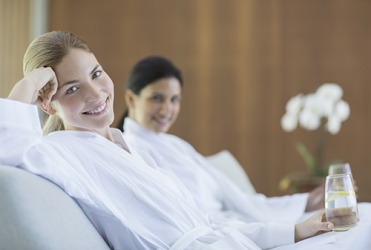 Marcy and Cheryl always rejuvenate at the spa on each of their birthdays.
verb
To rejuvenate is to restore, or to make someone or something look younger or fresher.

When you get a face lift, this is an example of a time when you rejuvenate your appearance.
---
rejuvenate
transitive verb
-·nat·ed

,

-·nat·ing
to make feel or seem young again; bring back to youthful strength, appearance, etc.
to make seem new or fresh again

Geol.

to increase the grade and speed of flow of (a stream), usually by uplift of the surrounding land
to give youthful land forms to (a region), as steep slopes
Origin of rejuvenate
from re- + Classical Latin
juvenis,
young + -ate
to restore or reacquire a youthful or new appearance
---
rejuvenate
transitive verb
re·ju·ve·nat·ed, re·ju·ve·nat·ing, re·ju·ve·nates
To restore to youthful vigor or appearance; make young again.
To restore to an original or new condition: rejuvenate an old sofa.

a. To stimulate (a stream) to renewed erosive activity, as by uplift of the land.

b. To develop youthful topographic features in (a previously leveled area).
Origin of rejuvenate
re-
Latin
iuvenis
young
; see
yeu-
in Indo-European roots.
-ate
1
Related Forms:
---
rejuvenate

Verb
(third-person singular simple present rejuvenates, present participle rejuvenating, simple past and past participle rejuvenated)
To render young again.
Origin
From re- ("again") + Latin iuvenis ("young").
---