regeneration

re·gen·er·a·tion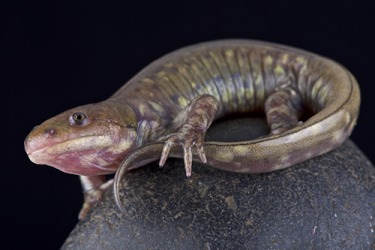 A salamander's regeneration capabilities include regrowing body parts such as limbs and even organs.
noun
Regeneration is the act or process of coming back, growing anew or a spiritual rebirth.

When a lizard loses its tail and then grows it back, this is an example of regeneration.
---
regeneration
a regenerating or being regenerated; specif.,
a being renewed, reformed, or reconstituted
a spiritual rebirth

Biol.

the renewal or replacement of any hurt or lost part, as the claw of a lobster

Electronics

the act or process of regenerating signals
Origin of regeneration
Middle English
regeneracioun
from Ecclesiastical Late Latin
regeneratio
---
regeneration
noun
The act or process of regenerating or the state of being regenerated, especially:
a. Biology Regrowth of lost or destroyed parts or organs.
b. Spiritual or moral revival or rebirth.
---
regeneration

Noun
(countable and uncountable, plural regenerations)
rebuilding or restructuring; large scale repair or renewal.

The conversion of so many old industrial buildings into living quarters was a major factor in the regeneration.

(fantasy, gaming) restoration of health or hit points
---