restoration
res·to·ra·tion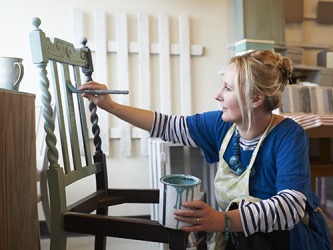 Natalie's furniture restoration business is successful because her skillset is unique.
noun
Restoration is the act of repairing or renewing something.

An example of restoration is fixing an old house to its original state.
An example of restoration is giving someone their job back.
An example of a restoration is rebuilding a set of bones to represent a dinosaur.
---
restoration
a restoring or being restored; specif.,

reinstatement in a former position, rank, etc.
restitution for loss, damage, etc.
a putting or bringing back into a former, normal, or unimpaired state or condition

a representation or reconstruction of the original form or structure, as of a building, fossil animal, etc.
something restored
Origin of restoration
Middle English
restauration
from Middle French from Late Latin
restauratio
the Restoration
the reestablishment of the monarchy in England in 1660 under Charles II
the period of the reign of Charles II (1660-85): sometimes taken as including the reign of James II (1685-88)
---
restoration
noun
a. An act of restoring: damage too great for restoration.

b. An instance of restoring or of being restored: Restoration of the sculpture was expensive.

c. The state of being restored.

Something, such as a renovated building, that has been restored.
Restoration

a. The return of a constitutional monarchy to Great Britain in 1660 under Charles II.

b. The period between the crowning of Charles II and the Revolution of 1688.
---
restoration

Noun
(plural restorations)
the process of bringing an object back to its original state; the process of restoring something

The restoration of this painting will take years.
The restoration of this medieval church involved undoing all the Victorian modifications.
---