restitution

res·ti·tu·tion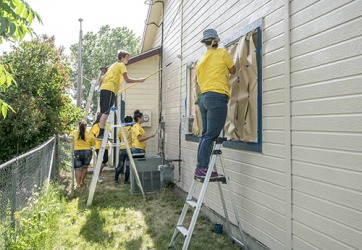 As restitution for spray painting the school's wall, Sam was ordered by the juvenile court to work with a volunteer group repainting a needy family's house.
noun
Restitution is defined as reimbursement for a loss or injury, or restoring to a former condition or returning something to the former owner.

An example of restitution is money paid in a breach of contract case to make up for the breach.
An example of restitution is when a shoplifter has to give back or pay for the item he stole.
---
restitution
a giving back to the rightful owner of something that has been lost or taken away; restoration
a making good for loss or damage; reimbursement
a return to a former condition or situation

Physics

the recovery of its shape by an elastic body after pressure or strain is released
Origin of restitution
Middle English from Middle French from Classical Latin
restitutio
from
restitutus,
past participle of
restituere,
to set up again, restore from
re-,
again +
statuere,
to set up: see statue
---
restitution
noun
The act of restoring to the rightful owner something that has been taken away, lost, or surrendered.
The act of making good or compensating for loss, damage, or injury; indemnification.
A return to or restoration of a previous state or position.
---
restitution

Noun
(countable and uncountable, plural restitutions)
(law) A process of compensation for losses.
The act of making good or compensating for loss or injury.
A return or restoration to a previous condition or position.

the restitution of an elastic body

That which is offered or given in return for what has been lost, injured, or destroyed; compensation.
(medicine) The movement of rotation which usually occurs in childbirth after the head has been delivered, and which causes the latter to point towards the side to which it was directed at the beginning of labour.
---
restitution - Legal Definition
n
A making good for loss, damages, or injury, by indemnifying the damaged party; return or restoring something to its lawful owner. Useful in both torts and contract law, restitution is sometimes used in criminal law as a condition of probation.
---