remedy

rem·e·dy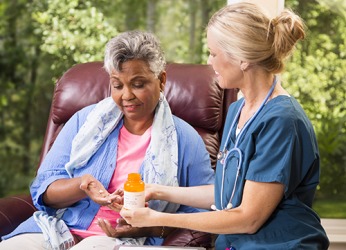 The remedy for Martha's infection was a round of antibiotics which was administered by a home health nurse.
noun
The definition of a remedy is a way of correcting something or is a treatment given for an illness or medical condition.

An example of remedy is when you say you are sorry for an argument.
An example of remedy is an antibiotic for a bacterial infection.
---
remedy
noun
pl.
-·dies
any medicine or treatment that cures, heals, or relieves a disease or bodily disorder or tends to restore health
something that corrects, counteracts, or removes an evil or wrong; relief; redress

Law

a means, as court action, by which violation of a right is prevented or compensated for; legal redress
Origin of remedy
Middle English
remedie
from Anglo-French from Old French
remede
from Classical Latin
remedium
from
re-
, again +
mederi,
to heal, akin to
medicus:
see medical
transitive verb
-·died

,

-·dy·ing
to cure or heal, as with medicine
to put back in proper condition; put right
to correct or remove (an evil, etc.)
---
remedy
noun
pl.
rem·e·dies
Something, such as a drug or a bandage, that is used to treat a symptom, disease, injury, or other condition.

a. Something that corrects an evil, fault, or error.

b. Law The means of obtaining redress of a wrong or enforcement of a right.

The allowance by a mint for deviation from the standard weight or quality of coins.
transitive verb
rem·e·died, rem·e·dy·ing, rem·e·dies
To relieve or cure (a disease or disorder).
To counteract or rectify (a problem, mistake, or undesirable situation). See Synonyms at correct.
Origin of remedy
Middle English
remedie
from
Old French
from
Latin
remedium
re-
re-
medērī
to heal
; see
med-
in Indo-European roots.
---
remedy

Verb
(third-person singular simple present remedies, present participle remedying, simple past and past participle remedied)
To provide or serve as a remedy for.
Origin
From Middle English remedie, from Old French *remedie, remede, from Latin remedium ("a remedy, cure"), from re- ("again") + mederi ("to heal").
---
remedy - Legal Definition
n
The way a right is enforced or an injury is redressed—most commonly by imposition of monetary damages.
extraordinary remedy
A type of remedy that is not usually available, but that is used when it is shown that it is necessary in order to preserve one's rights. Writs of mandamus, prohibition, and habeas corpus are examples of such.
provisional remedy
A temporary remedy that is incidental to a regular legal proceeding, but that is needed to preserve the claimant's rights or to keep same from suffering irreparable harm pending the action's conclusion. Temporary restraining orders, injunctions, attachment, or appointment of receivers are examples of provisional remedies.
---