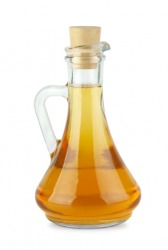 Vinegar is an acid.
adjective
Acid is defined as something that has a sour taste, or something that has a pH of less than 7 in chemistry.

Lemon is an example of an acid substance.
noun
The definition of acid is sour or sharp in taste, or having a pH of under 7 in chemistry.

Lemon juice and vinegar are each an example of an acid.
---
acid
sharp and biting to the taste; sour; tart
sharp or sarcastic in temperament or speech
that is, or has the properties of, an acid
having too heavy a concentration of acid

Origin of acid

because such colors often have a sharp, piercing quality or effect designating or of color that is vivid or luminous: acid green
Origin of acid
Classical Latin
acidus
, sour from Indo-European base an unverified form
a?-
, sharp, pointed from source ear
a sour substance: use vinegar or another acid in the marinade to tenderize the meat before grilling

Slang

LSD

Chem.

any compound that can react with a base to form a salt, the hydrogen of the acid being replaced by a positive ion; in modern theory, any substance that produces a positive ion and accepts electrons from a base to form covalent bonds: in water solution an acid tastes sour, turns blue litmus paper red, and, in the dissociation theory, produces free hydrogen ions
---
acid
noun
Chemistry

a. Any of a class of substances whose aqueous solutions are characterized by a sour taste, the ability to turn blue litmus red, and the ability to react with bases and certain metals to form salts.

b. A substance that yields hydrogen ions when dissolved in water.

c. A substance that can act as a proton donor.

d. A substance that can accept a pair of electrons to form a covalent bond.

A substance having a sour taste.
The quality of being sarcastic, bitter, or scornful: wrote with acid about her first marriage.
Slang See LSD1.
adjective
Chemistry

a. Of, relating to, or containing an acid.

b. Having a high concentration of acid.

c. Having the characteristics of an acid.

a. Having a pH of less than 7.

b. Having a relatively high concentration of hydrogen ions.

Geology Containing a large proportion of silica: acid rocks.
Having a sour taste. See Synonyms at sour.
Biting, sarcastic, or scornful: an acid wit; an acid tone of voice.
Origin of acid
From
Latin
acidus
sour
from
acēre
to be sour
; see
ak-
in Indo-European roots.
Related Forms:
---
acid

---
acid - Computer Definition
(Atomic, Consistent, Isolated, Durable) The properties of a transaction in a well-designed database management system (DBMS). The transaction must be ATOMIC (all updating tasks must be completed or nothing is done), CONSISTENT (it cannot leave the database in a state that violates any integrity rules), ISOLATED (remain invisible to other operations until completed) and DURABLE (will complete or be reversed if the system fails in the interim).
---