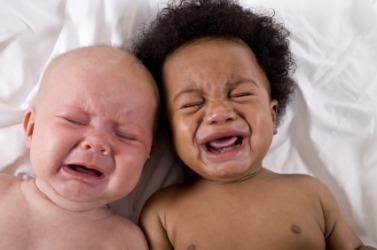 Two irritable babies.
adjective
The definition of irritable is someone who is cranky, or who has the tendency to be grumpy and get mad easily.

A woman who is very pregnant, has raging hormones and gets really mad at everything all the time is an example of someone who would be described as irritable.
---
irritable
easily annoyed or provoked
in an ill humor; bad-tempered; peevish

Med.

excessively or pathologically sensitive to a stimulus

Physiol.

able to respond to a stimulus
Origin of irritable
Classical Latin
irritabilis
from
irritare
, to irritate
---
irritable
adjective
Easily irritated or annoyed.
Medicine Abnormally or excessively sensitive to a stimulus: irritable bladder.
Capable of responding to a stimulus. Used of an organism.
Origin of irritable
French
irritable
from
Latin
irrītābilis
from
irrītāre
to irritate
Related Forms:
ir′ri·ta·bil′i·ty ir′ri·ta·ble·ness

noun
---
irritable

---