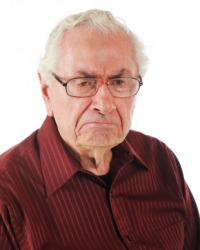 This man looks ornery.
adjective
The definition of ornery is someone bad tempered or stubborn.

A grumpy old man who is always looking to pick a fight is an example of someone who would be described as ornery.
---
ornery
having an ugly or mean disposition
obstinate
Origin of ornery
altered from ordinary
---
ornery
adjective
or·ner·i·er, or·ner·i·est
Mean-spirited, disagreeable, and contrary in disposition; cantankerous.
Origin of ornery
Alteration of
ordinary
Related Forms:
---
ornery

Origin
Contracted or dialectal pronunciation of ordinary.
---