petulant

pet·u·lant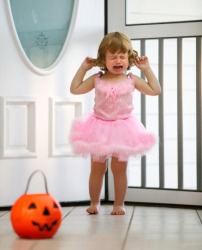 The petulant little girl cried uncontrollably when her mother couldn't find her glitter shoes.
adjective
The definition of petulant is someone who gets irritated without a good reason.

An example of petulant is a toddler throwing a temper tantrum when they don't get their way.
---
petulant
Obs.

forward or insolent
impatient or irritable, esp. over petty things; peevish
Origin of petulant
Classical Latin
petulans
(gen.
petulantis
), forward, petulant from base of
petere,
to rush at, fall: see feather
---
petulant
adjective
Unreasonably irritable or ill-tempered; peevish.
Contemptuous in speech or behavior.
Origin of petulant
Latin
petulāns
petulant-
insolent
from
petere
to assail
; see
pet-
in Indo-European roots.
Related Forms:
pet′u·lance pet′u·lan·cy

noun
---
petulant

Adjective
(comparative more petulant, superlative most petulant)
childishly irritable

Lack of sleep is causing Dave's recent petulant behavior.
Origin
From Middle French, from Latin petulans, akin to petere.
---