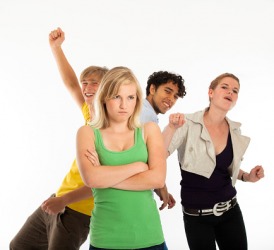 She behaved petulantly for the entire night because her friends forced her to go to the party.
adverb
Petulantly is defined as something done in an irritated or impatient manner.

If you go along reluctantly to a party and you act sulky the entire night, this is an example of when you behavepetulantly.
---
petulantly

Adverb
(comparative more petulantly, superlative most petulantly)
In a manner expressing irritation or annoyance.
---