kindly

kind·ly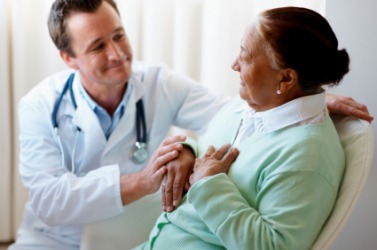 A kindly doctor.
adjective
The definition of kindly is someone gentle, pleasant or compassionate.

A sweet, gentle and nice old woman is an example of a kindly old woman.
adverb
Kindly is defined as something done in a caring or compassionate manner, or is a word used to request something in an overly-polite manner.

When you give someone a reprieve from answering a question and you do so out of compassion, this is an example of when you kindly let them off the hook.
If you want someone to be quiet and you ask them in a rude way, this is an example of when you might say "would you kindly shut up please."
---
kindly
adjective
-·lier

,

-·li·est
kind; gracious; benign
agreeable; pleasant: a kindly climate

Archaic

natural; native; innate
Origin of kindly
Middle English
cyndelich
from Old English
(ge)cyndelic,
natural from
cynd(e):
see kind
adverb
-·lier

,

-·li·est
in a kind, gracious manner
agreeably; favorably
as a courtesy; please: kindly shut the door

Obs.

naturally: now only in

take kindly to

, a) to be naturally attracted to b) to accept willingly
---
kindly
adjective
kind·li·er, kind·li·est
Of a sympathetic, helpful, or benevolent nature: a kindly interest; a gentle, kindly soul. See Synonyms at kind1.
Agreeable; pleasant: a kindly breeze.

a. Archaic Of or relating to a status derived by legal descent from an ancestor.

b. Obsolete Natural to its kind.
adverb
Out of kindness: She kindly overlooked their mistake.
In a kind manner: He spoke kindly to us.
Pleasantly; agreeably: The sun shone kindly.
In an accommodating manner: Would you kindly fill in your name and address?
Obsolete In a way or course that is natural; fittingly.
---
kindly

Adjective
(comparative kindlier, superlative kindliest)
Having a kind personality.

A kindly old man sits on the park bench every afternoon feeding pigeons.

Wordsworth

should e'er a kindlier time ensue

Spenser

an herd of bulls whom kindly rage doth sting

L. Andrews

Whatsoever as the Son of God he may do, it is kindly for Him as the Son of Man to save the sons of men.
Adverb
(comparative more kindly, superlative most kindly)
Usage notes
(please): Kindly is used in a slightly more peremptory way than please. It is generally used to introduce a request with which the person addressed is expected to comply, and takes the edge off what would otherwise be a command.
(with kind acceptance): This sense is a negative polarity item; it is usually found in questions and negative statements, as in the above example sentences.
---