perky

perk·y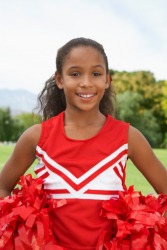 A perky cheerleader.
adjective
The definition of perky is someone who is cheerful, peppy and self-confident.

A smiling, happy cheerleader with lots of energy is an example of someone who might be described as perky.
---
perky
adjective
perk′i·er

,

perk′i·est
self-confident; aggressive
sprightly or lively; saucy; jaunty
Origin of perky
perk + -y
---
perky
adjective
perk·i·er, perk·i·est
Buoyant and self-confident; briskly cheerful.
Jaunty and appealing; sprightly: a perky tune.
Small or firm and well-formed: "her perky, shapely little body" ( Joyce Carol Oates )
Related Forms:
---
perky

Adjective
(comparative perkier, superlative perkiest)
Lively or enthusiastic.

She answered with a perky smile and bounced off.
---