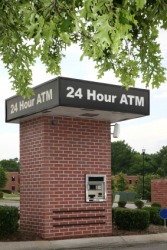 A drive-up ATM.
adjective
The definition of drive-up is a place where customers can bring their vehicle to a window and receive service.

An example of drive-up used as an adjective is in the phrase "drive-up window" which means a window where drivers can order food or complete a bank transaction.
---
drive-up
adjective
Designed to permit customers to remain in their motor vehicles while being accommodated: a drive-up window at the bank.
Related Forms:
---