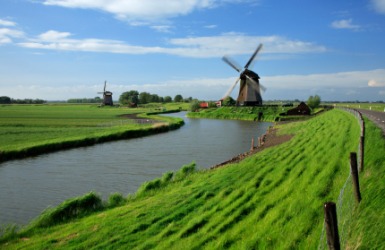 A dike alongside a canal.
---
dike
noun
Brit., Dialectal

a ditch or watercourse
the bank of earth thrown up in digging a ditch

an embankment or dam made to prevent flooding by the sea or by a river
a protective barrier or obstacle

Scot.

a low dividing wall of earth or stone

Archaic

a raised causeway

Geol.

igneous rock that solidified as a tabular body in a more or less vertical fissure
Origin of dike
Middle English ; from Old English
dic
and amp; Old Norse
diki
, akin to ditch, Dutch
dijk
, German
deich
; from Indo-European base an unverified form
dhēigw-
, an unverified form
dhīgw-
, to pierce, fasten from source Classical Latin
figere
, fix
---
dike
also dyke
noun
a. An embankment of earth and rock built to prevent floods.

b. Chiefly British A low wall, often of sod, dividing or enclosing lands.

A barrier blocking a passage, especially for protection.
A raised causeway.
A ditch; a channel.
Geology A long mass of igneous rock that cuts across the structure of adjacent rock.
transitive verb
diked
diked
,
dik·ing
,
dikes
also
dyked
or
dyk·ing
or
dykes
To protect, enclose, or provide with a dike.
To drain with dikes or ditches.
Origin of dike
Middle English, from Old English
dīc
,
trench
; see
dhīgw-
in Indo-European roots, and from Old Norse
dīki
,
ditch
.
Related Forms:
dike1
mafic dikes (the darker rock) in a mountain of granodiorite
---
dike
Noun
(plural dikes)
(UK) Archaic spelling of all (UK) meanings of dyke.
A barrier of stone or earth used to hold back water and prevent flooding.

1891: Susan Hale, Mexico, volume 27, The Story of the Nations, London: T. Fisher Unwin, page 100:

The king of Texcuco advised the building of a great dike, so thick and strong as to keep out the water.

(pejorative) A lesbian, especially a manly or unattractive lesbian.
Verb
(third-person singular simple present dikes, present participle diking, simple past and past participle diked)
To surround or protect with a dike or dry bank; to secure with a bank.
To drain by a dike or ditch.
Proper noun
A topographic surname​ for someone living near a dike.
Origin
From Ancient Greek Δίκη (Dikē, literally "Justice, Order, Judgement").
---