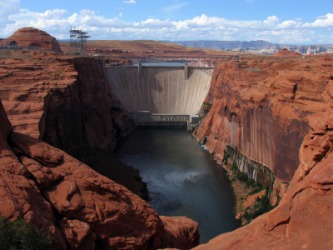 The Glen Canyon dam in Arizona.
noun
The definition of a dam is something that holds back water, or the body of water that is being held.

An example of a dam is rubber sheet put around a tooth to keep it dry during a dental procedure.
An example of a dam is the Hoover Dam on the Colorado River in Nevada.
verb
Dam is defined as to create a barrier to hold back liquid.

An example of dam is building a rock wall across a stream.
---
dam
a barrier built to hold back flowing water
the water thus kept back
any barrier like a dam, as a rubber sheet used in dentistry to keep a tooth dry
Origin of dam
Middle English from Germanic base seen in MLowG, Middle Dutch
dam
, Old Norse
dammr
, Middle High German
tam
, Gothic
faur-dammjan
, to stop up from Indo-European base an unverified form
dh?-
, to set, put in place from source do, Classical Latin
facere
transitive verb
dammed

,

dam′ming
to build a dam in
to keep back or confine by or as by a dam: usually with up
the female parent of any four-legged, esp. domestic, animal

Archaic

a mother
Origin of dam
ME, variant, variety of
dame
, dame
---
dam
noun
a. A barrier constructed across a waterway to control the flow or raise the level of water.

b. A body of water controlled by such a barrier.

A barrier against the passage of liquid or loose material, as a rubber sheet used in dentistry to isolate one or more teeth from the rest of the mouth.
transitive verb
dammed, dam·ming, dams
To hold back or confine by means of a dam.
To close up; obstruct: He tried to dam his grief.
Origin of dam
Middle English
Related Forms:
dam1
Shasta Dam, on the Sacramento River, near Redding, California
noun
A female parent of an animal, especially a domesticated mammal such as a horse.
Archaic A mother.
Origin of dam
Middle English
dam, dame
lady, mother
; see
dame
.
---
dam

Noun
(plural dams)
A structure placed across a flowing body of water to stop the flow.

A dam is often an essential source of water to farmers of hilly country.

(dentistry) A device to prevent a tooth from getting wet, consisting of a rubber sheet held with a band.
(South Africa) A reservoir.
Verb
(third-person singular simple present dams, present participle damming, simple past and past participle dammed)
To block the flow of water.
Origin
From Middle Dutch, Middle Low German dam, from Proto-Germanic *dammaz.
Noun
(plural dams)
Female parent, mother, generally regarding breeding of animals (correlative to sire).
---
dam - Computer Definition
(Digital Asset Management) Keeping track of the digital assets of an organization. Companies have come to own a huge amount of digitally created material that needs to be stored, cataloged and easily retrieved. See DAMS.
---