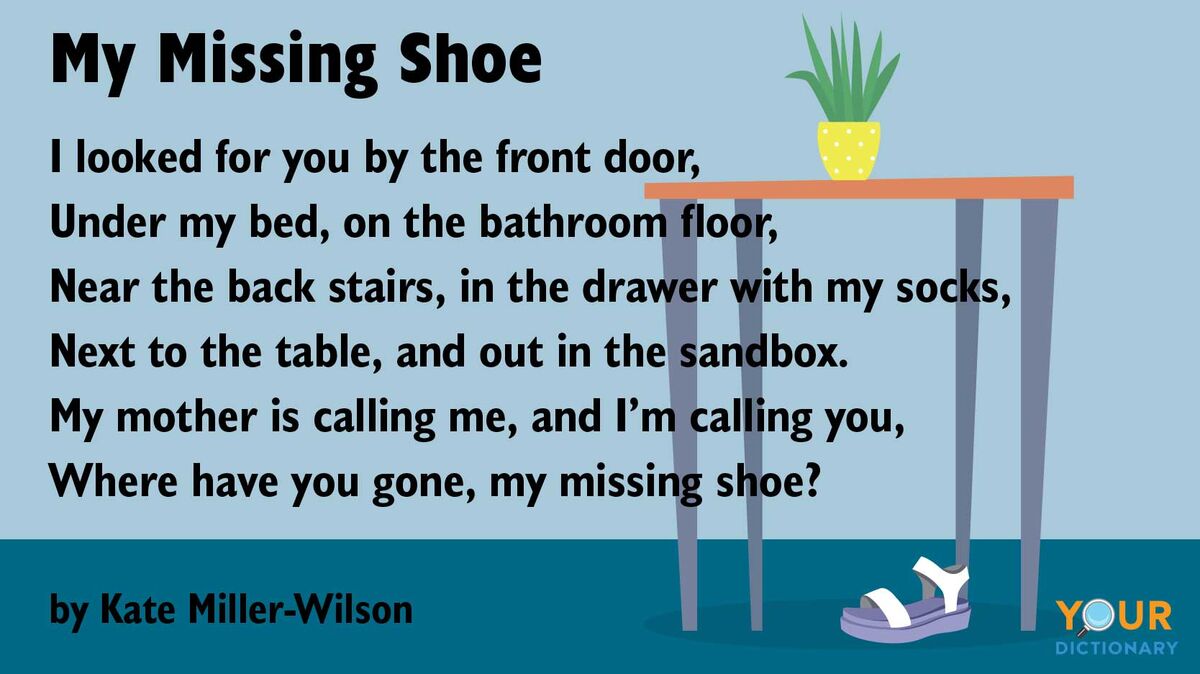 Short poems for kids can help spark their interest in poetry and even help them learn to read. The key is choosing pieces that are quick and fun so kids don't get overwhelmed. The following poems are great for kids of all ages.
"The Crocodile" is a short, funny poem for kids by Lewis Carroll, the author of Alice's Adventures in Wonderland. It's got plenty of rhyme, which makes it an easy poem to memorize, and the hilarious ending will charm even the youngest children.
How doth the little crocodile

Improve his shining tail,

And pour the waters of the Nile

On every golden scale!

How cheerfully he seems to grin!

How neatly spread his claws,

And welcomes little fishes in

With gently smiling jaws!
Another funny poem for kids, "The Purple Cow" by Gelett Burgess has been delighting children since its publication in 1895. It's amusing and easy to learn, and it will introduce kids to the joy of poetry. With only four simple lines, even Kindergarten students will be able to memorize it.

I never saw a purple cow,

I hope to never see one,

But I can tell you, anyhow,

I'd rather see than be one!
You might not think of Alfred, Lord Tennyson as a children's poet, but his short poem, "The Eagle" is perfect for the middle grades. It's a great introduction to visual imagery with its vivid descriptions, and the rhyme makes it easy for kids to enjoy and remember.

He clasps the crag with crooked hands;

Close to the sun in lonely lands,

Ring'd with the azure world, he stands.

The wrinkled sea beneath him crawls;

He watches from his mountain walls,

And like a thunderbolt he falls.
"Dream Variations" by Langston Hughes offers a different vision of children's poetry. This poem, about race and ethnicity, is told from the perspective of a child and offers a playful quality that will appeal to kids and adults alike. This excerpt is the second stanza of the poem.

To fling my arms wide

In the face of the sun,

Dance! Whirl! Whirl!

Till the quick day is done.

Rest at pale evening . . .

A tall, slim tree . . .

Night coming tenderly

Black like me.
When it comes to short poems for kids to recite, no one can beat Emily Dickinson. The beautiful rhythm and rhyme scheme of her work makes it fun to read aloud. "I'm Nobody, Who Are You?" playfully deals with the concepts of identity and individuality, something that will resonate with kids of all ages.

I'm Nobody! Who are you?

Are you—Nobody—Too?

Then there's a pair of us!

Don't tell! they'd advertise—you know!

How dreary—to be—Somebody!

How public—like a Frog—

To tell one's name—the livelong June—

To an admiring Bog!
Many people don't realize that William Makepeace Thackeray, author of important Victorian novels like Vanity Fair, was also a poet. "At the Zoo" is a fun, short rhyming poem for kids, and it's also a great alliteration example for younger readers. Kids will love the repetition of sounds and the easy-to-remember rhyme and rhythm.
First I saw the white bear, then I saw the black;

Then I saw the camel with a hump upon his back;

Then I saw the grey wolf, with mutton in his maw;

Then I saw the wombat waddle in the straw;

Then I saw the elephant a-waving of his trunk;

Then I saw the monkeys-mercy, how unpleasantly they-smelt!
Christina Rossetti wrote several short poems for kids during the 1800s, and a few of them stand the test of time. "What Are Heavy?" is a poem that sounds like a riddle. The question-and-answer pattern of the lines is easy to remember, and it captures the attention of young readers.

What are heavy? Sea-sand and sorrow;

What are brief? Today and tomorrow;

What are frail? Spring blossoms and youth;

What are deep? The ocean and truth.
Kids who are tempted to stay up late on school nights will enjoy "First Fig" by Edna St. Vincent Millay. This is an easy poem to memorize and recite, and it's also a good way to learn about symbolism in poetry.

My candle burns at both ends;

It will not last the night;

But ah, my foes, and oh, my friends -

It gives a lovely light!
Written more than a century ago, Robert Louis Stevenson's charming poem "Bed in Summer" speaks to a topic that resonates just as beautifully with children today: going to bed before it's dark outside. It's a great poem for kids to recite, since the rhyme scheme makes it easy to remember each line.
In winter I get up at night

And dress by yellow candle-light.

In summer, quite the other way,

I have to go to bed by day.

I have to go to bed and see

The birds still hopping on the tree,

Or hear the grown-up people's feet

Still going past me in the street.


And does it not seem hard to you,

When all the sky is clear and blue,

And I should like so much to play,

To have to go to bed by day?
You can also use original short poems for kids. Write your own poem about something that will resonate with child readers. Be specific and keep the language at the appropriate level. "My Missing Shoe" by Kate Miller-Wilson is an original children's poem about a child searching for their shoe.

I looked for you by the front door,

Under my bed, on the bathroom floor,

Near the back stairs, in the drawer with my socks,

Next to the table, and out in the sandbox.

My mother is calling me, and I'm calling you,

Where have you gone, my missing shoe?
Start Small With Short Poems
If you start small with short poems for kids, you can help them develop a passion for poetry without getting overwhelmed. Once they've learned to love reading and reciting poems, introduce them to children's poetry books that will spark their imaginations and keep them reading verse for a lifetime.