day

day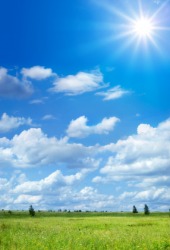 A bright sunny day.
noun
The definition of a day is a 24-hour period of time or the period of light between sunrise and sunset.

An example of a day is Thanksgiving.
An example of day is two o'clock in the afternoon.
---
day
the period of light between sunrise and sunset
daylight
sunshine

the 24-hour period (

mean solar day

) that it takes the earth to rotate once on its axis with respect to the sun: the civil or legal day is from midnight to midnight, the astronomical day from noon to noon

Astron.

the time that it takes any celestial body to revolve once on its axis

[oftenD-] a particular or specified day: Memorial Day
[also pl.] a period or time; era; age: the best writer of her day, in days of old
a time of flourishing, power, glory, success, etc.: he has had his day
the struggle or contest occurring on a certain day or in a certain period of time: they won the day
the time one works each day: an eight-hour day
an unspecified past or future time: one of these days
[pl.] one's lifetime; life: to spend one's days in study
Origin of day
Middle English
dai
from Old English
dæg
(pl.
dagas
), akin to Old Norse
dagr
, Gothic
dags
, Old High German
tag
from Proto-Germanic an unverified form
dagwaz
, probably from Indo-European base an unverified form
a?hes
, day, with
d
- by associated, association with base an unverified form
dhegwh-
, to burn
back in the day
Informal
at some time in the past
call it a day
Informal
to stop whatever one is engaged in, as work
day after day
every day or for many successive days
from day to day
from one day to the next
without particular concern about the future
---
day
noun
The period of light between dawn and nightfall; the interval from sunrise to sunset.

a. The 24-hour period during which the earth completes one rotation on its axis, traditionally measured from midnight to midnight.

b. The period during which a celestial body makes a similar rotation.

One of the numbered 24-hour periods into which a week, month, or year is divided.
The portion of a 24-hour period that is devoted to work, school, or business: an eight-hour day; a sale that lasted for three days.
A 24-hour period or a portion of it that is reserved for a certain activity: a day of rest.

a. A specific, characteristic period in one's lifetime: In Grandmother's day, skirts were long.

b. A period of opportunity or prominence: Every defendant is entitled to a day in court. That child will have her day.

A period of time in history; an era: We studied the tactics used in Napoleon's day. The day of computer science is well upon us.
days Period of life or activity: The sick cat's days will soon be over.
adjective
Of or relating to the day.
Working during the day: the day nurse.
Occurring before nightfall: a day hike.
Origin of day
Middle English
dai, day
from
Old English
dæg
; see
agh-
in Indo-European roots.
---
day

Proper noun
An English surname​ from day as a word for a "day-servant", an archaic term for a day-laborer. ,or from given names such as Dagr, Daug, Dege, and Dey, cognate with Scandinavian Dag.
An Irish surname​ anglicised from Ó Deághaidh ("descendant of a person named Good Luck").
Origin
This surname has multiple origins. Besides the ones listed below, Norman origin has also been suggested from De Haie", or "a corruption of the Normandy French D'Ossone, from the town of Ossone, in Normandy".
---