holiday

hol·i·day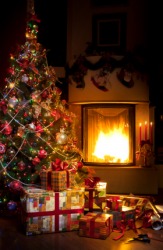 Christmas is one example of a holiday.
noun
The definition of a holiday is a day where business is suspended in celebration of a specific event.

An example of a holiday is Christmas.
---
holiday
holy day
a day of freedom from labor; day set aside for leisure and recreation
[often pl.]

Chiefly Brit.

a period of leisure or recreation; vacation
a day set aside by law or custom for the suspension of business, usually in commemoration of some event
any period of freedom from something: a weeklong sales-tax holiday
Origin of holiday
from Middle English
holidei
, with shortened first vowel from Old English
h?ligdæg
: see holy and day
suited to a holiday; merry, festive, etc.: a holiday atmosphere

of or associated with a holiday: an extended holiday weekend
having to do with the year-end holidays of Thanksgiving, Christmas, Hanukkah, and New Year's: throngs of holiday shoppers
Chiefly Brit.
to take a vacation or vacation trip
Holiday
(born Eleonora Fagan Holiday) 1915-59; U.S. jazz singer: also called Lady Day
---
holiday
noun
A day free from work that one may spend at leisure, especially a day on which custom or the law dictates a halting of general business activity to commemorate or celebrate a particular event.
A religious feast day; a holy day.
Chiefly British A vacation. Often used in the phrase on holiday.
intransitive verb
holi·dayed, holi·day·ing, holi·days
Chiefly British
To pass a holiday or vacation.
Origin of holiday
Middle English
holidai
holy day
from
Old English
hālig dæg
hālig
holy
; see
holy
.
dæg
day
; see
day
.
Related Forms:
---
holiday

Verb
(third-person singular simple present holidays, present participle holidaying, simple past and past participle holidayed)
To take a period of time away from work or study.
(UK) To spend a period of time for travel.
---