noun
The definition of a holiday is a day where business is suspended in celebration of a specific event.

An example of a holiday is Christmas.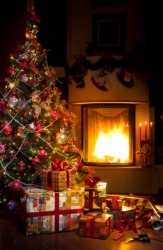 Christmas is one example of a holiday.
---
holiday definition by Webster's New World
noun
holy day
a day of freedom from labor; day set aside for leisure and recreation

Chiefly Brit.

a period of leisure or recreation; vacation
a day set aside by law or custom for the suspension of business, usually in commemoration of some event
Origin: ; from Middle English holidei, with shortened first vowel ; from Old English hāligdæg: see holy and amp; day
adjective
of or suited to a holiday; joyous; merry: the holiday spirit
intransitive verb
Chiefly Brit.
to take a vacation or vacation trip
Holiday, Billie (born Eleonora Fagan Holiday) 1915-59; U.S. jazz singer: also called Lady Day
Webster's New World College Dictionary Copyright © 2010 by Wiley Publishing, Inc., Cleveland, Ohio. Used by arrangement with John Wiley & Sons, Inc.
---
holiday definition by American Heritage Dictionary
noun
A day free from work that one may spend at leisure, especially a day on which custom or the law dictates a halting of general business activity to commemorate or celebrate a particular event.
A religious feast day; a holy day.
Chiefly British A vacation. Often used in the phrase on holiday.
intransitive verb
holi·dayed
,
holi·day·ing
,
holi·days
Chiefly British
To pass a holiday or vacation.
Origin: Middle English holidai, holy day, from Old English hālig dǽg : hālig, holy; see Holy + dǽg, day; see Day .
Related Forms:
, Eleanora Known as "Billie." 1915-1959.
American singer. The emotional intensity of her performances made Holiday the leading female jazz vocalist of her time.
The American Heritage® Dictionary of the English Language, 4th edition Copyright © 2010 by Houghton Mifflin Harcourt Publishing Company. Published by Houghton Mifflin Harcourt Publishing Company. All rights reserved.
---
holiday - Phrases/Idioms