document

doc·u·ment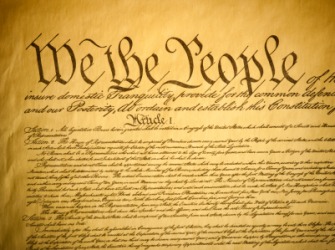 The United States Constitution is an historic document.
noun
The definition of a document is a piece of paper or papers containing information often used as proof or a record of something.

An example of document is the United States Constitution.
verb
Document is defined as to gather and report the details of something or prove something.

An example of document is a writer covering an event for a newspaper article.
---
document
something containing information, esp. information in printed or written form, often, specif., something that is relied upon to record or prove something: documents may be on paper, in digital or electronic form, etc.
anything serving as proof
Origin of document
Middle English and Old French from Classical Latin
documentum
, lesson, example, proof from
docere
, to teach: see decent
to provide with a document or documents
to provide (a book, pamphlet, etc.) with documents or supporting references
to prove, as by reference to documents
to gather and report the details of; cover or chronicle
---
document
noun
a. A written or printed paper that bears the original, official, or legal form of something and can be used to furnish decisive evidence or information.

b. Something, such as a recording or a photograph, that can be used to furnish evidence or information.

c. A writing that contains information.

d. Computers A piece of work created with an application, as with a word processor.

e. Computers A computer file that is not an executable file and contains data for use by applications.

Something, especially a material substance such as a coin bearing a revealing symbol or mark, that serves as proof or evidence.
transitive verb
doc·u·ment·ed, doc·u·ment·ing, doc·u·ments
To furnish with a document or documents.
To methodically record the details of: "I had thought long and logically about … how to document the patterns of dolphin behavior" ( Diana Reiss )
To support (an assertion or claim, for example) with evidence or decisive information.
To support (statements in a book, for example) with written references or citations; annotate.
Origin of document
Middle English
precept
from
Old French
from
Latin
documentum
example, proof
from
docēre
to teach
; see
dek-
in Indo-European roots.
Related Forms:
doc′u·ment′a·ble

adjective
---
document

Noun
(plural documents)
An original or official paper relied upon as the basis, proof, or support of anything else, including any writing, book, or other instrument conveying information pertinent to such proof or support. Any material substance on which the thoughts of men are represented by any species of conventional mark or symbol.
Verb
(third-person singular simple present documents, present participle documenting, simple past and past participle documented)
To record in documents.

He documented each step of the process as he did it, which was good when the investigation occurred.

To furnish with documents or papers necessary to establish facts or give information.

A ship should be documented according to the directions of law.
Origin
From Middle French document.
---
document - Computer Definition
(1) Originally, the term referred to only a file created in a word processor. When Apple introduced the Macintosh in the mid-1980s, it called every data file a document no matter which software application was used to create it. The terminology migrated to the Windows environment, which later provided a My Documents folder as the default storage location for all personal data. Default folders for pictures, music and videos are located in the My Documents folder. See template and style sheet.
(2) Any paper form whether printed, typed or handwritten that is used to transact business or make some official statement.
---
document - Legal Definition
n
v
Information captured on paper or in electronic format. Under the rules of evidence, the term receives the broadest possible interpretation and may include such items as photographs, audiotapes, etc.
To record something, typically in writing, or to produce documents to substantiate an assertion.
---