diploma

di·plo·ma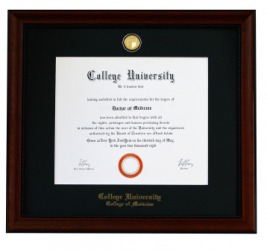 A framed diploma.
noun
The definition of a diploma is an official certificate given to a student who has obtained a degree, graduated from a particular course of study or has been granted honors.

An example of a diploma is the certificate given to students at their high school graduation ceremony.
---
diploma
noun
pl.
an official state document or historical document; charter
a certificate conferring honors, privileges, etc.
a certificate issued to a student by a school, college, or university, indicating graduation or the conferring of a degree
Origin of diploma
L, state letter of recommendation from Classical Greek
dipl?ma
, folded letter from
diploun
, to double from
diploos
, double
---
diploma
noun
A document issued by an educational institution, such as a university, testifying that the recipient has earned a degree or has successfully completed a particular course of study.
A certificate conferring a privilege or honor.
An official document or charter.
Origin of diploma
Latin
diplōma
letter of introduction
from
Greek
document, folded paper
from
diploos
double
; see
dwo-
in Indo-European roots.
---
diploma

Origin
From Latin diploma, from Ancient Greek δίπλωμα (diplōma, "folded paper, license"), from διπλόω (diploō, "I double, fold over"), from διπλόος (diploos, "double").
---