verb
Deliver is defined as to bring to someone or to give birth.

An example of deliver is for the mailman to drop off the mail.
An example of deliver is to have a baby.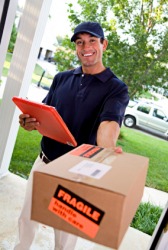 A man delivers a package.
---
deliver
transitive verb
to set free or save from evil, danger, or restraint; liberate: delivered from bondage
to assist (a female) at the birth of (offspring): to deliver a woman of twins, to deliver a baby
to give forth, or express, in words; make (a speech or pronouncement); utter
to give or hand over; transfer
to carry to and leave at the proper place or places; distribute: deliver the mail
to give or send forth; discharge; emit: the oil well delivered 20 barrels a day
to strike (a blow)
to throw or toss: the pitcher delivered a curve
☆

Informal

to cause (votes, a political delegation, etc.) to go to the support of a particular candidate or cause
Origin of deliver
Middle English
delivren
; from Old French
délivrer
; from Vulgar Latin
deliberare
, to liberate ; from
de-
, intensive +
liberare
, to liberate
intransitive verb
to give birth to a child
to make deliveries, as of merchandise
☆ to do, give, produce, etc. something expected or promised; come through: our new food processor delivers on all its promises
---
deliver
verb
de·liv·ered
,
de·liv·er·ing
,
de·liv·ers
verb
, transitive
To bring or transport to the proper place or recipient; distribute: deliver groceries; deliver the mail.
To surrender (someone or something) to another; hand over: delivered the criminal to the police.
To secure (something promised or desired), as for a candidate or political party: campaign workers who delivered the ward for the mayor.
To throw or hurl: The pitcher delivered the ball.
To strike (a blow).
To express in words; declare or utter: deliver a lecture.

a. To give birth to: She delivered a baby boy this morning.

b. To assist (a woman) in giving birth: The doctor delivered her of twins.

c. To assist or aid in the birth of: The midwife delivered the baby.

To give forth or produce: an oil well that delivered thousands of barrels a day.
To set free, as from captivity, peril, or evil: deliver a captive from slavery. See Synonyms at save1.
verb
, intransitive
To produce or achieve what is desired or expected; make good: The senator delivered on her pledge. He is a manager who just can't seem to deliver.
To give birth: She expects to deliver in late August.
Origin of deliver
Middle English
deliveren
, from Old French
delivrer
, from Late Latin
dēlīberāre
: Latin
dē-
,
de-
+
līberāre
,
to free
(from
līber
,
free
; see
leudh-
in Indo-European roots).
Related Forms:
de·liv′er·a·bil′i·ty

noun
de·liv′er·a·ble

adjective
---
deliver
Verb
(third-person singular simple present delivers, present participle delivering, simple past and past participle delivered)
To set free.

deliver a captive from the prison

To give birth.

she delivered a baby boy yesterday

To assist in the birth of.

the doctor delivered the baby

(formal, with "of") To assist (a female) in bearing, that is, in bringing forth (a child).

the duchess was delivered of a son
the doctor is expected to deliver her of a daughter tomorrow

(figuratively) To free from or disburden of anything.
To bring or transport something to its destination.

deliver a package;  deliver the mail

To give forth in action or exercise; to discharge.

to deliver a blow
Anagrams
livered, relived, reviled
---