lapidary

lap·i·dar·y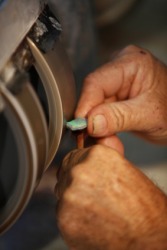 A lapidary at work.
noun
The definition of a lapidary is someone who cuts and polishes gems, or the skill of gem-cutting.

An example of a lapidary is a person in a jewelry store who shapes raw diamonds into cut diamonds.
The skill of cutting a precious stone into a wearable jewel is an example of lapidary.
---
lapidary
noun
pl.
-·dar·ies
a person who cuts, polishes, and engraves precious stones
an expert in precious stones; collector of or dealer in gems
Origin of lapidary
Middle English
lapidarie
from Late Latin
lapidarius
from L, of stones from
lapis
(gen.
lapidis
), a stone, akin to Classical Greek
lepas
, ultimately ? from Indo-European base an unverified form
lep-
: see leper
of or connected with the art of cutting and engraving precious stones
engraved on stone
short, precise, and elegant, like an inscription on a monument
Origin of lapidary
L
lapidarius
---
lapidary
noun
pl.
lap·i·dar·ies
One who cuts, polishes, or engraves gems.
A dealer in precious or semiprecious stones.
adjective
Of or relating to precious stones or the art of working with them.

a. Engraved in stone.

b. Marked by conciseness, precision, or refinement of expression: lapidary prose.

c. Sharply or finely delineated: a face with lapidary features.
Origin of lapidary
Middle English
lapidarie
from
Old French
lapidaire
from
Latin
lapidārius
from
lapis
lapid-
stone
---
lapidary

Noun
(plural lapidaries)
An expert in gems or precious stones; a connoisseur of lapidary work.
(archaic) A treatise on precious stones.
---