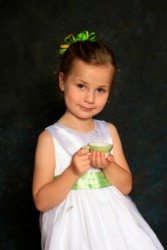 A little girl behaving in a very ladylike manner.
adjective
The definition of ladylike is behavior considered appropriate for a well-mannered female.

Crossing your legs gently at the ankles in a proper feminine way is an example of behavior that would be described as ladylike.
---
ladylike
like, characteristic of, or suitable for a lady; refined; well-bred
---
ladylike
adjective
Characteristic of a well-mannered woman or girl who adheres to traditional norms of propriety and femininity: "As soon as boys can walk they are encouraged to do sports, while rambunctious girls are urged to be more ladylike" ( Steve Olson )
Appropriate to such a woman or girl, as in being restrained or delicate: "She ate a small, ladylike forkful of her mashed potatoes" ( Martha Southgate )
Related Forms:
---
ladylike

Adjective
(comparative more ladylike, superlative most ladylike)
Of or connected with the appearance or behaviour of a well-mannered woman.
---