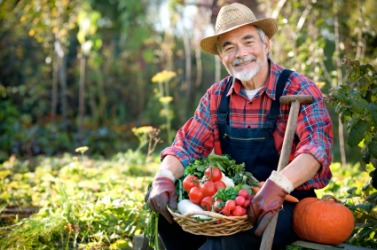 A farmer at work.
noun
The definition of a farmer is a person who owns, works on or operates an agricultural enterprise, either commercially or to sustain himself or his family.

An example of a farmer is a person who owns several acres of land and a barn and who raises cattle and grows fruits and vegetables to eat and to sell at a local market.
---
farmer
a person who earns a living by farming; esp., one who manages or owns a farm

Historical

a person who pays for a right, as to collect and keep taxes
Origin of farmer
Middle English
fermour
, farmer, bailiff from Anglo-French
fermer
from Old French
fermier
from
ferme
: see farm
Farmer
1857-1915; U.S. teacher & writer on cooking
---
farmer
noun
One who works on or operates a farm.
One who has paid for the right to collect and retain certain revenues or profits.
A simple, unsophisticated person; a bumpkin.
---
farmer

---