noun
The definition of a farmer is a person who owns, works on or operates an agricultural enterprise, either commercially or to sustain himself or his family.

An example of a farmer is a person who owns several acres of land and a barn and who raises cattle and grows fruits and vegetables to eat and to sell at a local market.
YourDictionary definition and usage example. Copyright © 2013 by LoveToKnow Corp.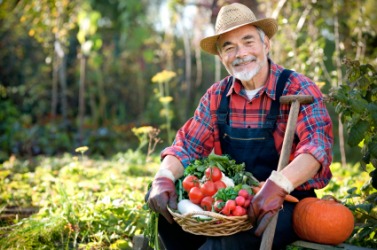 A farmer at work.
Licensed from iStockPhoto
---
noun
a person who earns a living by farming; esp., one who manages or operates a farm
a person who pays for a right, as, formerly, to collect and keep taxes
a person who contracts to do something for a fixed price
Origin: Middle English fermour, farmer, bailiff ; from Anglo-French fermer ; from Old French fermier ; from ferme: see farm
Farmer, Fannie (Merritt) 1857-1915; U.S. teacher & writer on cooking
Webster's New World College Dictionary
Copyright © 2010 by Wiley Publishing, Inc., Cleveland, Ohio.
Used by arrangement with John Wiley & Sons, Inc.
---
noun
One who works on or operates a farm.
One who has paid for the right to collect and retain certain revenues or profits.
A simple, unsophisticated person; a bumpkin.
, Fannie Merritt 1857-1915.
American cookery expert who edited the Boston Cooking School Cook Book (1896), which has undergone many revisions as the Fannie Farmer Cookbook.
, James Leonard 1920-1999.
American civil rights leader who founded the Congress of Racial Equality (1942), served as its national director (1961-1966), and advocated nonviolent forms of protest.
The American Heritage® Dictionary of the English Language
, 4th edition Copyright © 2010 by Houghton Mifflin Harcourt Publishing Company. Published by Houghton Mifflin Harcourt Publishing Company. All rights reserved.