indigenous

in·dig·e·nous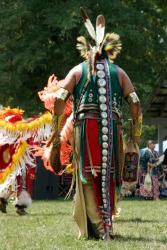 Indigenous people of North America.
adjective
The definition of indigenous is something or someone who is native to an area or who naturally belongs there.

An example of indigenous are the Native Americans of the United States.
---
indigenous
existing, growing, or produced naturally in a region or country; native: indigenous plant, indigenous to Florida
innate; inherent; inborn
Origin of indigenous
Late Latin
indigenus
from Classical Latin
indegena
: see indigene
---
indigenous
adjective
Originating, growing, or produced in a certain place or region. See Synonyms at native.

a. Being a member of the original inhabitants of a particular place.

b. Of, belonging to, or characteristic of such inhabitants.
Origin of indigenous
From
Latin
indigena
a native
; see
indigene
.
Related Forms:
---
indigenous

Adjective
(not comparable)
(chiefly of living things) Born or engendered in, native to a land or region, especially before an intrusion. [from 17th c.]
Origin
From Late Latin indigenus ("native, born in a country"), from indi- (indu-), an old derivative of in ("in"), gen- the root of gignō ("give birth to"), and English -ous. Compare indigene and ancient Greek ἐνδογενής (endogenēs), "endogenous".
---