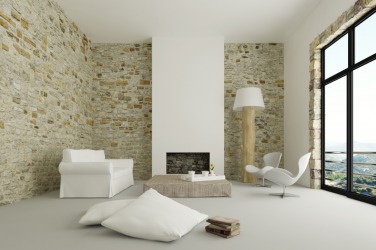 This area is called a living room.
noun
The definition of an area is a specific extent of land or space.

A football field, a parking lot and a living room floor are each an example of an area.
---
area
a level surface or piece of ground
a part of the earth's surface; region; tract
the measure of a bounded region on a plane or of the surface of a solid
a yard of a building
a part of a house, lot, district, city, etc. having a specific use or character: dining area, play area, commercial area
a part of any surface, as of an organism, or a particular zone, as of the cerebral cortex
scope or extent, as of an operation
Origin of area
L, vacant place, courtyard, probably (in sense "arid, bare place") from
arere
, to be dry: see ash
---
area
noun
A roughly bounded part of the space on a surface; a region: a farming area; the New York area.
A surface, especially an open, unoccupied piece of ground: a landing area; a playing area.
A distinct part or section, as of a building, set aside for a specific function: a storage area in the basement.
A division of experience, activity, or knowledge; a field: studies in the area of finance; a job in the health-care area.
An open, sunken space next to a building; an areaway.
Abbr. A The extent of a planar region or of the surface of a solid measured in square units.
Origin of area
Latin
ārea
open space
possibly akin to
ārēre
to be dry
; see
arid
.
Related Forms:
area
To calculate the area of a rectangle, multiply the length by the width. The area of this rectangle is 50 square feet.
---
area

Noun
(plural areas or areæ)
A particular geographic region.
Any particular extent of surface, especially an empty or unused extent.

The photo is a little dark in that area.

Figuratively, any extent, scope or range of an object or concept.

The plans are a bit vague in that area.   My guts are a bit sore in that area.

(UK) An open space, below ground level, between the front of a house and the pavement.

(soccer) Penalty box; penalty area.
(slang) Genitals.
See also:
área
---