noun
The definition of a ghetto is an area of a city where poor people live, with typically higher rates of crime and where racial and religious groups are discriminated against.

An example of a ghetto is South Central Los Angeles.
YourDictionary definition and usage example. Copyright © 2013 by LoveToKnow Corp.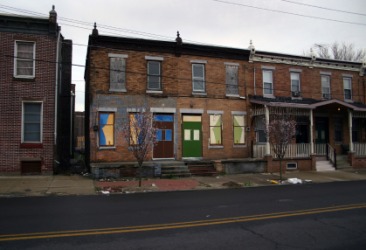 A street in a ghetto.
Licensed from iStockPhoto
---
noun
pl. ghettos or ghettoes
in certain European cities, a section to which Jews were formerly restricted
any section of a city in which many members of some minority group live, or to which they are restricted as by economic pressure or social discrimination
Origin: It, literally , foundry (from gettare, to pour from Vulgar Latin an unverified form jectare, for Classical Latin jactare, to throw, cast), name of a quarter inch(es) Venice occupied by Jews, origin, originally location of a cannon foundry
Webster's New World College Dictionary
Copyright © 2010 by Wiley Publishing, Inc., Cleveland, Ohio.
Used by arrangement with John Wiley & Sons, Inc.
---
noun
pl.
ghet·tos
or
ghet·toes
A usually poor section of a city inhabited primarily by people of the same race, religion, or social background, often because of discrimination.
An often walled quarter in a European city to which Jews were restricted beginning in the Middle Ages.
Something that resembles the restriction or isolation of a city ghetto: "trapped in ethnic or pink-collar managerial job ghettoes" (Diane Weathers).
Origin: Italian, after Ghetto, island near Venice where Jews were made to live in the 16th century.
The American Heritage® Dictionary of the English Language
, 4th edition Copyright © 2010 by Houghton Mifflin Harcourt Publishing Company. Published by Houghton Mifflin Harcourt Publishing Company. All rights reserved.