ghetto
ghet·to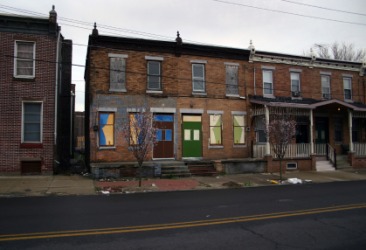 A street in a ghetto.
noun
The definition of a ghetto is an area of a city where poor people live, with typically higher rates of crime and where racial and religious groups are discriminated against.

An example of a ghetto is South Central Los Angeles.
---
ghetto
pl.

-·tos

or

-·toes
in certain European cities, a section to which Jews were formerly restricted
any section of a city in which many members of some minority group live, or to which they are restricted as by economic pressure or social discrimination
any place or condition regarded as isolating or restricting a particular group of people
Origin of ghetto
It, literally , foundry (; from
gettare
, to pour ; from Vulgar Latin an unverified form
jectare
, for Classical Latin
jactare
, to throw, cast), name of a quarter in Venice occupied by Jews, origin, originally location of a cannon foundry
⌂ of, or regarded as characteristic of, impoverished, esp. black, inner-city life, culture, or attitudes
---
ghetto
noun
pl.
ghet·tos
or
ghet·toes
A usually poor section of a city inhabited primarily by people of the same race, religion, or social background, often because of discrimination.
An often walled quarter in a European city to which Jews were restricted beginning in the Middle Ages.
Something that resembles the restriction or isolation of a city ghetto: "trapped in ethnic or pink-collar managerial job ghettoes" (Diane Weathers).
adjective
Slang
In a manner typical or stereotypical of an impoverished urban area, as in being makeshift, garish, or crass: "I pick up the pair of very big, very ghetto, door-knocker bamboo earrings" (Meesha Mink and De'nesha Diamond). "Isn't chewing gum when accepting an award very ghetto?" (Vibe).
Origin of ghetto
Italian, after
Ghetto, island near Venice where Jews were made to live in the 16th century
.
---
ghetto
---