arid

ar·id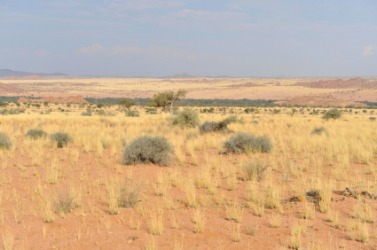 An arid landscape.
adjective
The definition of arid is land that does not have enough water to support the growth of plants.

A desert is an example of an arid land.
---
arid
lacking enough water for things to grow; dry and barren
not interesting; lifeless; dull
Origin of arid
Classical Latin
aridus
from
arere
, to be dry: see ash
---
arid
adjective
Lacking moisture, especially having insufficient rainfall to support trees or woody plants: an arid climate.
Lacking interest or feeling; lifeless and dull: a technically perfect but arid musical performance.
Origin of arid
Latin
āridus
from
ārēre
to be dry
; see
as-
in Indo-European roots.
Related Forms:
a·rid′i·ty ar′id·ness

noun
---
arid

Adjective
(comparative arider or more arid, superlative aridest or most arid)
Very dry.
Describing a very dry climate. Typically defined as less than 25 cm or 10 inches of rainfall annually.
Origin
Ultimately from the Latin term āridus ("dry, arid, parched"), confer its synonymous contracted form ardus. Originally from the verb āreo ("I am dry, I am parched"), akin to ārdeō ("I'm on fire, I burn").
---