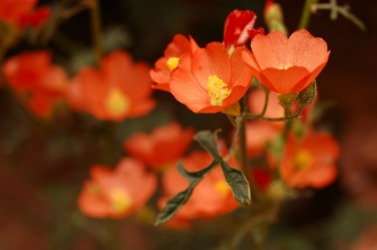 Orange globe mallow flowers.
---
globe mallow
noun
Any of several herbs or shrubs of the genus Sphaeralcea, native to the arid regions of North and South America and having colorful cuplike corollas and numerous stamens fused into tubes.
---
globe mallow
Noun
(plural globe mallows)
(botany) Any of many North American plants of the genus Sphaeralcea in the mallow family, Malvaceae.
---