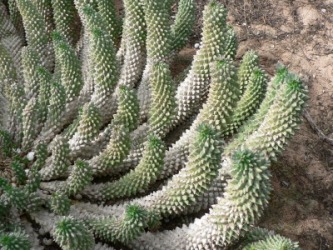 This cactus is an example of a xerophyte.
noun
The definition of a xerophyte is a plant that alters its physical structure to grow in very dry conditions.

How Plants Adapt for Desert Heat

Reducing leaf surfaces to minimize moisture loss,

Adding thick plant parts to store large amounts of water.
Waxy skin prevents water loss.

An example of a xerophyte is a cactus which has eliminated leaves in favor of small spines.
---
xerophyte
a plant structurally adapted to growing under very dry or desert conditions, often having greatly reduced leaf surfaces for avoiding water loss, thick, fleshy parts for water storage, and hairs, spines, or thorns
Origin of xerophyte
xero- + -phyte
---
xerophyte
noun
A plant adapted to surviving with little water.
Related Forms:
xer′o·phyt′i·cal·ly

adverb
---
xerophyte

---