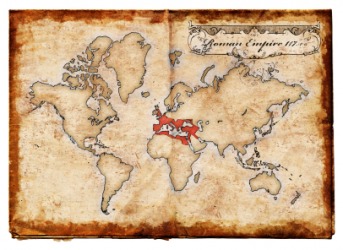 An old map showing the Roman Empire.
adjective
The definition of empire is something that relates to or is characteristic of Napoleon's French empire.

An example of empire is an empire dress, a dress with a waistline gathered just under the breasts with a long flowing skirt.
noun
An empire is defined as a political unit or territory or large geographic area under a unified or supreme authority, often an emperor or empress.

An example of an empire is the area over which Alexander the Great ruled.
---
empire
supreme rule; absolute power or authority; dominion

government by an emperor or empress
the period during which such government prevails

a group of states or territories under the sovereign power of an emperor or empress
a state uniting many territories and peoples under a single sovereign power

an extensive social or economic organization under the control of a single person, family, or corporation
Origin of empire
Middle English and Old French from Classical Latin
imperium
from
imperare
: see emperor
[
E-
] of or characteristic of the first French Empire (1804-15) under Napoleon; specif.,
designating a style of furniture of this period, characterized by massiveness, bronze ornamentation, and motifs of ancient Greece, Rome, and Egypt
designating a gown in the style of the period, with a short waist, décolleté bodice, flowing skirt, and short, puffed sleeves
---
empire
noun
a. A political unit having an extensive territory or comprising a number of territories or nations and ruled by a single supreme authority.

b. The territory included in such a unit.

An extensive enterprise under a unified authority: a publishing empire.
Imperial or imperialistic sovereignty, domination, or control: the extension of empire to distant lands.
Origin of empire
Middle English
from
Old French
from
Latin
imperium
from
imperāre
to command
; see
emperor
.
Empire
adjective
Of, relating to, or characteristic of a neoclassic style, as in clothing or the decorative arts, prevalent in France during the early 1800s.
Origin of Empire
After the First
Empire
of France (1804-1815)
Empire1
top: portrait of Désirée Clary (1777-1860), crowned Queen of Sweden in 1829, by François Gerard (1770-1837)
bottom: c. 1804 chair from the boudoir of Josephine Bonaparte, from the shop of Georges Jacob (1739-1814) and his son François-Honoré-Georges Jacob-Desmalter (1770-1841)
Empire1
Empire
noun
A variety of apple having dark red skin and white flesh.
Origin of Empire
After the
Empire
State, nickname for the state of New York, where it was developed
---
empire

Noun
(plural empires)
A political unit having an extensive territory or comprising a number of territories or nations and ruled by a single supreme authority.
A group of states or other territories that owe allegiance to a foreign power.
A state ruled by an emperor.
An expansive and wealthy corporation.

the McDonald's fast food empire
---