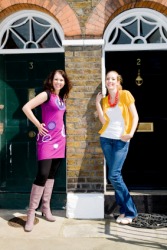 Two neighbors.
noun
Neighbour is an alternative spelling of the word neighbor, which is a term used to refer to people who live in your community and who are close to you.

The man who lives in the house next door to your house is an example of your neighbour.
---
neighbour
noun
verb
adjective
Chiefly British
---
neighbour

Noun
(plural neighbours) (British spelling)
A person living on adjacent or nearby land; a person situated adjacently or nearby; anything (of the same type of thing as the subject) in an adjacent or nearby position.

My neighbour has an annoying cat.
They"²re our neighbours across the street.
My neighbour is very irritable and grumpy at times.

One who is near in sympathy or confidence.
(biblical) any fellow human being
Verb
(third-person singular simple present neighbours, present participle neighbouring, simple past and past participle neighboured) (British spelling)
To be adjacent to (more often used as neighbouring)

Though France neighbours Germany, its culture is significantly different.

(intransitive, followed by "on"; figurative) To approach; to verge on.

That sort of talk is neighbouring on treason.

To associate intimately with.
Origin
From Middle English neighbour, neihebur, from Old English nÄ"ahÄ¡ebÅ«r ("neighbour"), from Proto-Germanic *nÄ"hwagabÅ«rô ("neightbour"), equivalent to nigh +"Ž bower. Cognate with Scots nichbour ("neighbour"), Dutch nabuur ("neighbour"), German Low German Navur ("neighbour"), German Nachbar ("neighbour"), Norwegian nabo ("neighbour"), Icelandic nábúi ("neighbour"). More at nigh, bower.
---