adjective
The definition of closet is something secret or unproven.

An example of closet is a manly man who secretly enjoys chick flicks; a closet chick flick watcher.
An example of closet is the universe being created by the "big bang;" closet belief in single-event creation.
noun
Closet is defined as a small space where clothes or other items are stored, or is slang for an environment of secrecy.

An example of a closet is where you hang your jackets.
An example of a closet is keeping one's homosexual orientation a secret; being in the closet.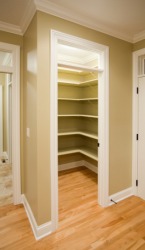 An empty closet.
---
closet
noun
a small room or cupboard for clothes, household supplies, linens, etc.
a small, private room for reading, meditation, etc.
a monarch's private chamber as for prayer or conference
water closet
a state of secrecy, esp. concerning personal homosexual orientation or activity: used with the
Origin of closet
Old French small enclosure, diminutive of
clos
: see close
adjective
private, secret, or clandestine: a closet drinker
marked by theorizing; speculative: closet thinking
transitive verb
to shut up in a private room for confidential discussion: to closet oneself with councilors
---
closet
noun
A cabinet or enclosed recess for linens, household supplies, or clothing.
A small private chamber, as for study or prayer.
A water closet; a toilet.
A state of secrecy or cautious privacy: Two days before the election, the candidate suddenly came out of the closet and denounced the proposed law.
transitive verb
clos·et·ed
,
clos·et·ing
,
clos·ets
To enclose or shut up in a private room, as for discussion: closeted themselves with their attorneys.
adjective
Private; confidential: closet information.
Being so or engaging only in private; secret: a closet proponent of a tax increase; a closet alcoholic.
Based on theory and speculation rather than practice.
Origin of closet
Middle English,
private room
, from Old French, diminutive of
clos
,
enclosure
, from Latin
clausum
, from neuter of
clausus
,
enclosed
; see
close
.
Related Forms:
---
closet
Noun
(plural closets)
(chiefly US) A piece of furniture or a cabinet in which clothes or household supplies may be stored.

A toilet; a water closet.
(figuratively) The imagined closet in idioms such as in the closet or skeleton in the closet, a place to keep things hidden.

The 'closet' can be a scary place for a gay teenager.
Adjective
(not comparable)
Verb
(third-person singular simple present closets, present participle closeting, simple past and past participle closeted)
To shut away for private discussion.

The ambassador has been closeted with the prime minister all afternoon. We're all worried what will be announced when they exit.

To put into a private place for a secret interview or interrogation.
To shut up in, or as in, a closet for concealment or confinement.
---