noun
The definition of a wardrobe refers to a cabinet used to hang clothing, or to a collection of clothing, or a room or area where clothes are kept.

A tall armoire in your bedroom you keep clothing in is an example of a wardrobe.
All of the pants, skirts, dresses, shorts, shoes and shirts you own are an example of your wardrobe.
The department that an actor goes to in order to get fitted for a costume is an example of wardrobe.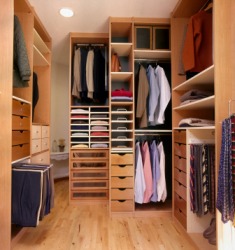 A large wardrobe.
---
wardrobe definition by Webster's New World
noun
a closet or movable cabinet, usually relatively tall and provided with hangers, etc., for holding clothes
a room where clothes are kept; esp., a room in a theater where costumes are kept
a collection of clothes; esp.,

the complete supply of clothes of a person
a supply of clothes for a particular season or purpose: a spring wardrobe
the collection of costumes of a theater or theatrical company

in a royal or noble household, the department in charge of clothes
Origin: Middle English warderobe ; from Norman French for Old French garderobe ; from garder (see guard) plush robe, robe
Webster's New World College Dictionary Copyright © 2010 by Wiley Publishing, Inc., Cleveland, Ohio. Used by arrangement with John Wiley & Sons, Inc.
---
wardrobe definition by American Heritage Dictionary
noun
A tall cabinet, closet, or small room built to hold clothes.
Garments considered as a group, especially all the articles of clothing that belong to one person.

a. The costumes belonging to a theater or theatrical troupe.

b. The place in which theatrical costumes are kept.

The department in charge of wearing apparel, jewelry, and accessories in a royal or noble household.
Origin: Middle English warderobe, from Old North French : warder, to guard; see wer-3 in Indo-European roots + robe, garment; see robe.