easel

ea·sel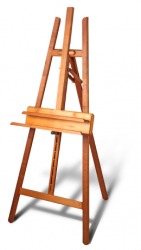 One type of wooden easel.
noun
The definition of an easel is a standing frame used for holding something.

An example of an easel is what a painter uses to hold their canvas.
---
easel
an upright frame or tripod to hold an artist's canvas, a picture on display, etc.
Origin of easel
17th circa from Dutch
ezel
(Ger
esel
), ass, ultimately from Classical Latin
asellus
, diminutive of
asinus
, ass: for sense, compare French
chevalet
, easel, literally , little horse and sawhorse
---
easel
noun
An upright frame for displaying or supporting something, such as an artist's canvas.
Origin of easel
Dutch
ezel
ass
from
Middle Dutch
esel
from
Latin
asellus
diminutive of
asinus
easel
---
easel

---
easel - Computer Definition
---