harp

harp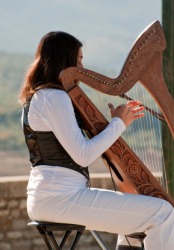 A woman playing a harp.
noun
The definition of a harp is a string instrument that is played by plucking the strings which are set in an open triangular frame, or the metal frame on a lamp that hold the lampshade.

An example of a harp is the instrument angels are often depicted as playing.
verb
Harp is defined as to play the string instrument commonly associated with angels, or to persist in discussing something that others don't want to discuss.

An example of harp is to play the stringed harp instrument in an orchestra.
An example of harp is to continually bring up a fight that happened five years ago.
---
harp
a musical instrument with strings stretched vertically in an open, triangular frame and played by plucking with the fingers: the modern harp has usually forty-six strings and, to permit the playing of halftones, seven foot-pedals
a harp-shaped object or implement
harmonica (sense )
Origin of harp
Middle English from Old English
hearpe
, akin to German
harfe
from Germanic an unverified form
harpa
from Indo-European base an unverified form
(s)kerb(h)-
, to bend, curve (from source shrimp): from the shape of the instrument
to play a harp
to persist in talking or writing tediously or continuously (on or upon something)

---
harp
noun
Music

a. An instrument having an upright triangular frame consisting of a pillar, a curved neck, and a hollow back containing the sounding board, with usually 46 or 47 strings of graded lengths that are played by plucking with the fingers.

b. Any of various ancient and modern instruments of similar or U-shaped design.

c. Informal A harmonica.

Something, such as a pair of vertical supports for a lampshade, that resembles a harp.
intransitive verb
harped, harp·ing, harps
To play a harp.
Phrasal Verbs:
harp on
To talk or write about to an excessive and tedious degree; dwell on.
Origin of harp
Middle English
from
Old English
hearpe
and from
Old French
harpe
of Germanic origin
Related Forms:
harp
harp
top: Welsh harpist Eluned Pierce
bottom: lamp harp
---
harp

---