pang

pang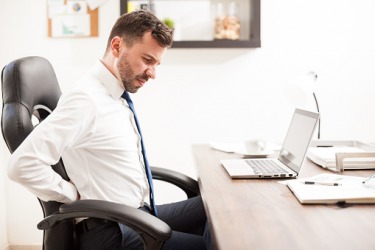 An office worker with a pang in his back.
noun
The definition of a pang is a sharp and sudden physical or emotional pain.

An example of a pang is jealousy felt from seeing your recent ex-girlfriend in a restaurant with her new boyfriend.
An example of a pang is the sting from a body piercing.
---
pang
a sudden, sharp, and brief pain, physical or emotional: hunger pangs
Origin of pang
from uncertain or unknown; perhaps Late Middle English
pronge:
see prong
---
pang
noun
A sudden sharp bodily pain: hunger pangs. See Synonyms at pain.
A sudden sharp feeling of emotional distress: a pang of guilt.
intransitive verb
panged, pang·ing, pangs
To feel sharp bodily pains.
To feel pangs of distress.
Origin of pang
Origin unknown
---
pang

birth pangs
pang of conscience
Verb
(third-person singular simple present pangs, present participle panging, simple past and past participle panged)
Origin
From Middle English *pange, an altered form of prange, pronge ("pang, throe, stab etc.")
See also:
pāng
---