agony

ag·o·ny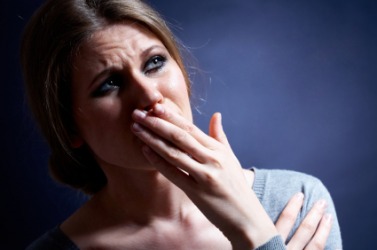 This grieving woman is in agony.
noun
The definition of agony refers to exhibiting extreme upset or sadness.

An example of agony is the defeat of an Olympic athlete.

Agony is defined as extraordinary, and often long term, physical or emotional pain.

An example of someone in a state of agony is a recent widow.
---
agony
noun
pl.
-·nies
very great mental or physical pain
death pangs
a convulsive struggle
a sudden, strong outburst (of emotion): an agony of joy
Origin of agony
Middle English
agonie
from Classical Latin
agonia
from Classical Greek
ag?nia
, a contest for victory from
ag?n
, agon
---
agony
noun
pl.
ag·o·nies
a. The suffering of intense physical or mental pain: The injured soldier writhed in agony.

b. An instance of such suffering: the agonies of adolescence.

A sudden or intense emotion: "Jones then fell upon his knees, and kissed her hand in an agony of joy" ( Henry Fielding )
A violent, intense struggle, especially the struggle that precedes death.
Origin of agony
Middle English
agonie
from
Old French
from
Late Latin
agōnia
from
Greek
agōniā
from
agōn
struggle
from
agein
to drive
; see
ag-
in Indo-European roots.
---
agony

Noun
(plural agonies)
Violent contest or striving.

The world is convulsed by the agonies of great nations. —Thomas Babington Macaulay.

Pain so extreme as to cause writhing or contortions of the body, similar to those made in the athletic contests in Greece; and hence, extreme pain of mind or body; anguish; paroxysm of grief; specifically, the sufferings of Christ in the garden of Gethsemane.

Being in an agony he prayed more earnestly. —Luke xxii. 44.

Paroxysm of joy; keen emotion.

With cries and agonies of wild delight. —Alexander Pope.

The last struggle of life; death struggle.
Origin
From Ancient Greek ἀγωνία (agonia, "emulation, competition, struggle"), from ἀγών (agon, "contest").
---