noun
The definition of a pail is a round-shaped, handled container with a handle that is used for carrying liquids or other things.

An example of a pail is the container a child uses to carry sand on beach.
YourDictionary definition and usage example. Copyright © 2013 by LoveToKnow Corp.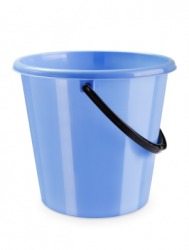 A blue pail.
Licensed from iStockPhoto
---
noun
a more or less cylindrical container, usually with a hoop-shaped handle, for holding and carrying liquids, etc.; bucket
the amount held by a pail
Origin: Middle English paile from Old English pægel, small measure, wine vessel from Late Latin pagella (dim. of Classical Latin pagina, page), a small page, inch(es) VL, a measure of area, later a measure of volume: influenced, influence by Old French paele, a pan from Classical Latin patella: see patella
Webster's New World College Dictionary
Copyright © 2010 by Wiley Publishing, Inc., Cleveland, Ohio.
Used by arrangement with John Wiley & Sons, Inc.
---
noun
A watertight cylindrical vessel, open at the top and fitted with a handle; a bucket.
The amount that a pail can hold.
Origin: Middle English paile, probably from Old French paele, warming pan, perhaps from Latin patella, small pan; see paella.
Related Forms:
The American Heritage® Dictionary of the English Language
, 4th edition Copyright © 2010 by Houghton Mifflin Harcourt Publishing Company. Published by Houghton Mifflin Harcourt Publishing Company. All rights reserved.