pail

pail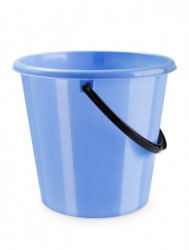 A blue pail.
noun
The definition of a pail is a round-shaped, handled container with a handle that is used for carrying liquids or other things.

An example of a pail is the container a child uses to carry sand on beach.
---
pail
a more or less cylindrical container, usually with a curved handle, for holding and carrying liquids, etc.; bucket
the amount held by a pail
Origin of pail
Middle English
paile
from Old English
pægel,
small measure, wine vessel from Late Latin
pagella
(dim. of Classical Latin
pagina,
page), a small page, in VL, a measure of area, later a measure of volume: influenced, influence by Old French
paele,
a pan from Classical Latin
patella
: see patella
---
pail
noun
A watertight cylindrical vessel, open at the top and fitted with a handle; a bucket.
The amount that a pail can hold.
Origin of pail
Middle English
paile
probably from
Old French
paele
warming pan
perhaps from
Latin
patella
small pan
; see
paella
.
Related Forms:
---
pail

Noun
(plural pails)
A vessel of wood, tin, plastic, etc., usually cylindrical and having a handle -- used especially for carrying liquids, for example water or milk; a bucket (sometimes with a cover).

The milkmaid carried a pail of milk in each hand.

(In technical use) A closed (covered) cylindrical shipping container.
A company of wasps.
Origin
Middle English payle 'wooden container', from Old English pæġel 'wine vessel, container for liquids, pail; liquid measure', from Proto-Germanic *pagilaz 'peg, rake' (compare Middle Dutch/Middle Low German pegel 'half pint', Danish pægl 'id.'), diminutive of *pag-. More at peg.
---