noun
The definition of a bucket is a round and deep container used for carrying things.

An example of a bucket is what you'd use to carry water from a faucet to a kiddie pool.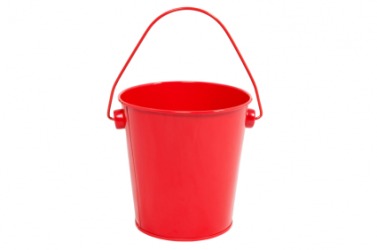 A bright red bucket.
---
bucket definition by Webster's New World
noun
a deep, round container with a flat bottom and a curved handle, used to hold or carry water, coal, etc.; pail
the amount held by a bucket
a thing like a bucket, as a scoop on a steam shovel, any of the cups on a water wheel, or any of the curved vanes in the rotor of a turbine

Slang

the rump; buttocks
Origin: Middle English boket ; from Anglo-French buket, diminutive of Old English buc, pitcher, bulging vessel, origin, originally , belly ; from Indo-European an unverified form bhou-, variant, variety of base an unverified form bheu-: see big
transitive verb
,
intransitive verb
to carry, draw, or lift (water, etc.) in a bucket or buckets
to speculate (with) dishonestly as in a bucket shop

Brit.

to ride (a horse) at a fast pace
to move or drive rapidly or recklessly
Webster's New World College Dictionary Copyright © 2010 by Wiley Publishing, Inc., Cleveland, Ohio. Used by arrangement with John Wiley & Sons, Inc.
---
bucket definition by American Heritage Dictionary
noun
a. A cylindrical vessel used for holding or carrying liquids or solids; a pail.

b. The amount that a bucket can hold: One bucket of paint will be enough for the ceiling.

A unit of dry measure in the U.S. Customary System equal to 2 pecks (17.6 liters). See Table at measurement.
A receptacle on various machines, such as the scoop of a power shovel or the compartments on a water wheel, used to gather and convey material.
Basketball A basket.
verb
buck·et·ed
,
buck·et·ing
,
buck·ets
verb
, transitive
To hold, carry, or put in a bucket: bucket up water from a well.
To ride (a horse) long and hard.
verb
, intransitive
To move or proceed rapidly and jerkily: bucketing over the unpaved lane.
To make haste; hustle.
Origin: Middle English, from Old French buket, of Germanic origin.
The American Heritage® Dictionary of the English Language, 4th edition Copyright © 2010 by Houghton Mifflin Harcourt Publishing Company. Published by Houghton Mifflin Harcourt Publishing Company. All rights reserved.
---
bucket - Computer Definition
A reserved amount of memory that holds a single item or multiple items of data. Bucket is somewhat synonymous to "buffer," although buffers are usually memory locations for incoming data records, while buckets tend to be smaller holding areas for calculations. See hash table, buffer and variable.
Computer Desktop EncyclopediaTHIS DEFINITION IS FOR PERSONAL USE ONLYAll other reproduction is strictly prohibited without permission from the publisher.© 1981-2014 The Computer Language Company Inc. All rights reserved.
---
bucket - Phrases/Idioms
kick the bucket
Etymology: ? < obs. bucket, beam on which a slaughtered pig was hung
a drop in the bucket
An insufficient or inconsequential amount in comparison with what is required.