---
jug
a sound meant to imitate a nightingale's note
Origin of jug
echoic
intransitive verb
jugged

,

jug′ging
to make a nightingale's sound or a sound imitating this
a container for liquids, usually large and deep with a small opening at the top and a handle
the contents of such a container

Slang

a jail

Slang

a bottle of whiskey
Origin of jug
apparently a pet form of Judith or Joan
transitive verb
jugged

,

jug′ging
to put into a jug
to stew (esp. hare) in a covered earthenware container

Slang

to jail
---
jug
noun
a. A large, often rounded vessel of earthenware, glass, or metal with a small mouth, a handle, and usually a stopper or cap.

b. The amount that a jug can hold.

A small pitcher.
Slang A jail.
jugs Vulgar Slang A woman's breasts.
transitive verb
jugged, jug·ging, jugs
To stew (a hare, for example) in an earthenware jug or jar.
Slang To put into jail.
Origin of jug
Middle English
jugge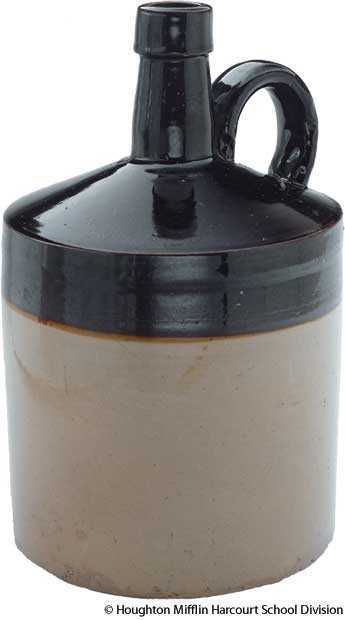 jug
glazed stoneware
---
jug

Noun
(plural jugs)
A serving vessel or container, circular in cross-section and typically higher than it is wide, with a relatively small mouth or spout, a handle and often a stopper or top.
The amount that a jug can hold.
(slang) Jail.
(New Zealand) A kettle.
Verb
(third-person singular simple present jugs, present participle jugging, simple past and past participle jugged)
---